Northern Lights crowned winners of PCS3 Europe!
The Europe East roster fought with consistency to become the region's first side to secure a second PCS title!
After three weekends, six days and 24 matches, we finally have our PCS3 Europe Grand Final winners… congratulations to Northern Lights!
The roster – made up of Yaroslav 'spyrro' Kuvichko, Aleksandr 'BatulinS' Batulin, Dmytro 'Perfect1ks' Dubeniuk and Kirill 'Lu' Lukianov – were in fine form, becoming the first ever side to win two PCS Europe titles following their win at the PCS Europe Charity Showdown. They'll now receive the lion's share of the $200,000 US prize pot.
Days 1 - 4
The Grand Finals kicked off on the weekend of the 7-8 November, when 16 of the region's best sides entered the battlegrounds to fight it out for the coveted PCS3 Europe title. Tornado Energy impressed early on, picking up two wins and finishing the opening weekend with a narrow six-point lead – rival rosters Northern Lights and Digital Athletics trailed closely behind.
We saw more of the same in the second weekend of action as the top three sides continued their fine form, open qualifiers Digital Athletics propelled themselves into first place but there was very little between the rosters, a mere 10 points by the end of Day 4. There were also surprises further down the table as previous PCS winners TSM and FaZe Clan languished in ninth and tenth place respectively.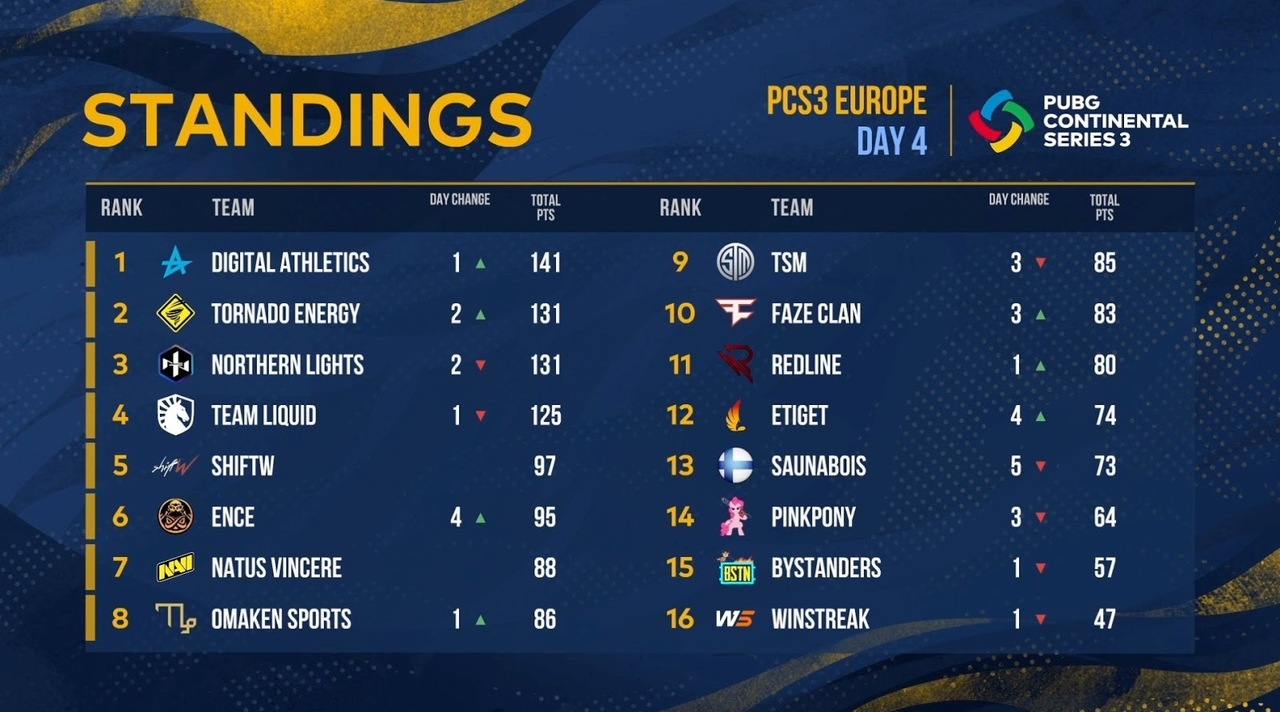 Day 5
It was always going to be a tense final weekend, with so little between the table toppers it was clear that rosters would have to be on top of their game to take home the title. Northern Lights started strongly, picking up a chicken dinner and a second and third place, putting some vital points on the board in the process. Despite Digital Athletics having a slightly disappointing day, which included two sixteenths and a ninth place finish, the Turkish roster did manage to secure a vital 25-point win in Match 18 – a warning shot to any rivals who thought they'd run out of steam.
And while all eyes were on the Digital Athletics v Northern Lights battle, FaZe Clan steamed through with an impressive 13-kill win to remind fans there was still plenty to play for on the final day.
Day 6
In a similar fashion to the rest of the Grand Finals, Day 6 continued to center around both Northern Lights and Digital Athletics. Northern Lights drew first blood, defeating ENCE to take the opening match of the evening, but Digital Athletics retaliated with an impressive display to take Match 22.
Match 23 was a huge moment for both sides, Northern Lights desperate to consolidate their lead and Digital Athletics in the hunt for first place. In the end, both rosters underperformed slightly, and Team Liquid emerged victorious to blast themselves up the leaderboard.
It was a similar story in Match 24, with both rosters dramatically being dispatched to the lobby at similar times, meaning not a lot changed at the top of the leaderboard. Team Liquid took their second consecutive win of the day, and dramatically leap-frogged Digital Athletics to claim second place.
Northern Lights fans celebrated as the match came to a close, knowing they'd done enough to secure their second PCS Europe win of the year. It was a well-deserved victory for the roster, who had consistently outperformed rivals over the course of the three weeks.
Congratulations to them!