PCS3 Europe Grand Final: the stats behind the story
We delve into the PCS3 Europe figures to get a clearer picture of the event!
Last week, Northern Lights fought off fierce competition to do what no other side has done in Europe: win their second PCS title of the year.
From start to finish, the roster gave us all a lesson in how to dominate at the highest level of PUBG esports. They seemed to get stronger and stronger as the weekends went by, and finished with an impressive 214 points on the board to take the win – Team Liquid and Digital Athletics trailed behind them, finishing with 204 and 199 points respectively.
Let's take a look at the underlying stats from the weekend, to shed a little light on how they did it.
The road to victory
Northern Lights came out swinging at PCS3 Europe, bringing home two important early chicken dinners on Day 1, and by the end of the weekend they found themselves in second place. The team's form continued in week two, as they sparred with rival rosters Tornado Energy and Digital Athletics at the top of the table. They dropped to third place, but still put vital points on the board to keep themselves in contention for the top prize.
On the last two days, playing in a tight formation, Northern Lights tied in first place for chicken dinners in Europe. They were also in third place for kill points, highlighting the importance of finishing in the top four consistently.
On the final weekend, Northern Lights' BatulinS and spyrro placed #1 and #2 on PEPS+ data, showing high levels of compatibility (combat variable) and tactics (map positioning) to help their roster claim the title.
Interestingly, Europe was the only region where the top overall PCS3 player wasn't a member of the winning team, with Tornado Energy's alyagg taking first place. The top 15 was peppered with members of Tornado Energy, Digital Athletics, Natus Vincere, and Team Liquid – but unsurprisingly it was winners Northern Lights who dominated the top 10, with Lu, BatulinS, and spyrro placing tenth, ninth, and third place respectively.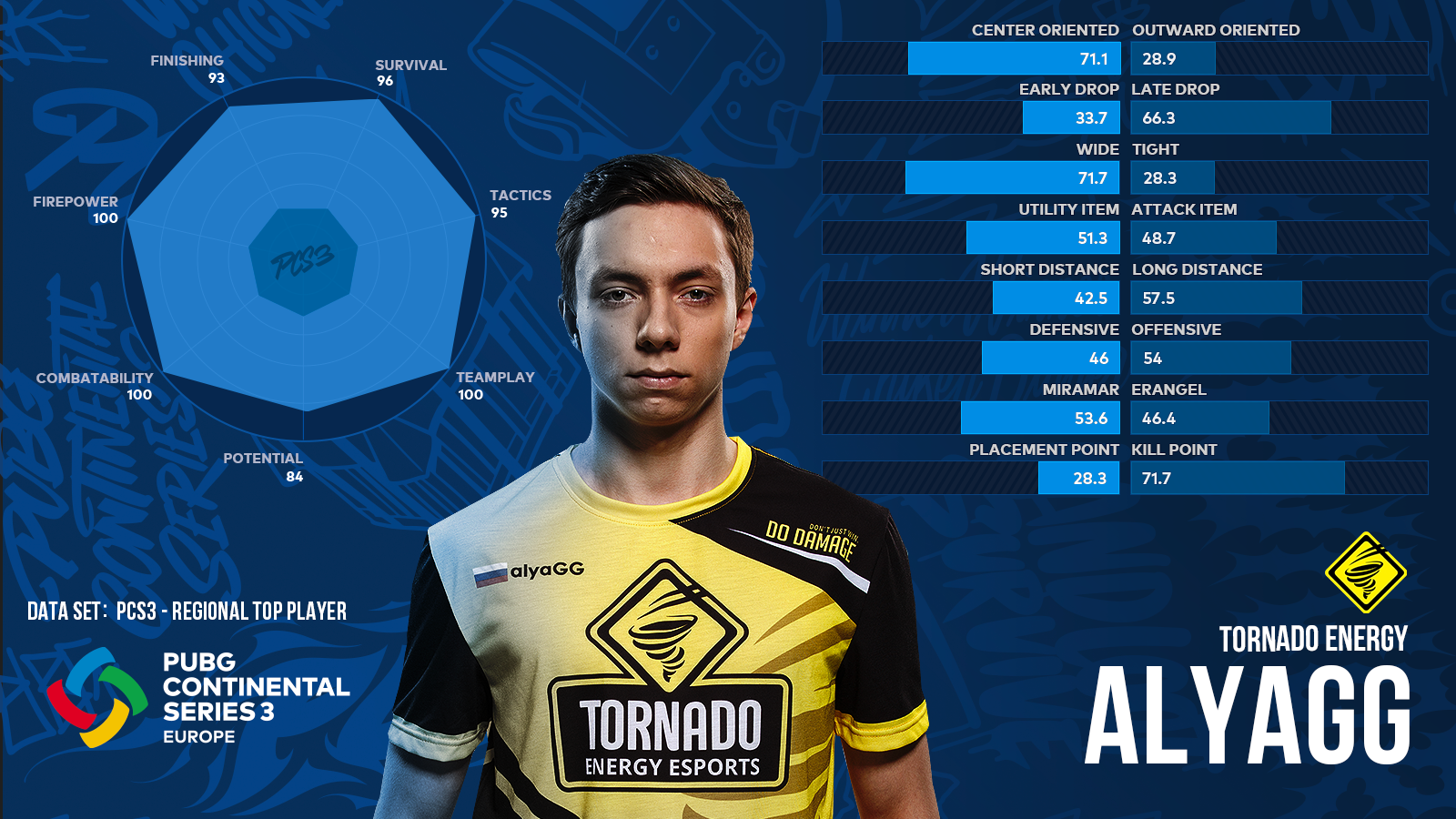 That wrapped up PCS for the year, and fans can now look forward to the PUBG Global Invitational.S in 2021. For more information on PUBG esports, be sure to follow the official Twitter page.