Taking 5 with the top 5
As the PCS3 Europe Grand Finals approach, we sit down with the players at the top of the leaderboard to discuss tactics, recent form, and gain an insight into their mindset ahead of a massive weekend of PUBG esports.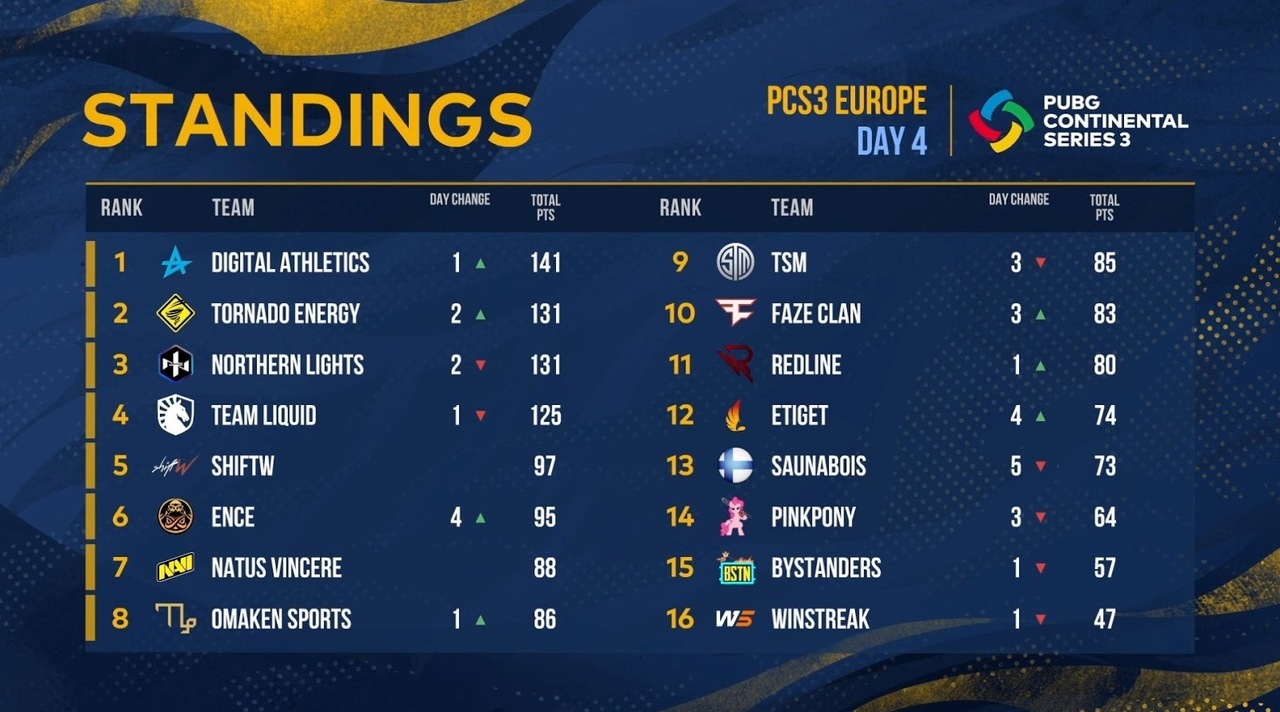 How are you guys feeling ahead of the final weekend?
Jord 'ibiza' van Geldere, Team Liquid: Pretty good. We are in fourth and only 16 points behind Digital Athletics. We've been playing pretty consistently so far and the goal is obviously to win PCS3 Europe!
Artem 'xmpl' Adarkin, Tornado Energy: I feel confident and so do my teammates. I'm in a good mood right now.
Şamil 'Mitraleius' Özkan, Digital Athletics: To be honest I am feeling a little anxious. There are a lot of people expecting us to become champions and we don't want to disappoint them.
Aleksandr 'BatulinS' Batulin, Northern Lights: Feeling great. We did our job well in the first two weeks, and now we are ready to play the final weekend!
René 'Braexco' Rehling, shiftW: I've got mixed feelings going into the final weekend and looking at the scoreboard. There is a huge gap between us and the top, but we will see what we can do.
Where do you think you will finish?
ibiza: We go with the flow. We have no idea where we will finish!
xmpl: We've had so many failures in previous tournaments but we've done a good job fixing them since then, and that work has made us smarter. Now we are here looking for first place.
MitraIeius: I think we will finish in the top three, but we will give our all to be victourius.
BatulinS: Our only goal is to finish first, so there are no other aims for us this weekend.
Braexco: I really want to finish in the top four again, but that's going to be a hard task. We're sitting in fifth place right now, but we're only looking up.
How would you rate your performance so far?
ibiza: I think we've been pretty decent so far, personally I am really happy with the team right now. Our team fights are pretty solid, we are improving week by week and the play style is consistent.
xmpl: During the first week we earned a decent amount of points, but unfortunately for us we threw a few games away which had potential. We will try to do better.
Mitraleius: Our performances keep getting better, but we are still making some mistakes that we need to improve on.
BatulinS: We are a very smart team and always know what to do in different circles, but we have problems with close fights and make some individual mistakes so that's what we are working on right now.
Braexco: We're not performing as we are used to, there have been a lot of basic mistakes which cost us a lot of points again and again. I'd rate our performance so far as a 6/10.
Are you adjusting tactics heading into the final weekend?
ibiza: Not really, the focus is on us and we play like we always do. Obviously there is some adjustments inbetween the weeks, and focus points that we want to bring into this weekend.
xmpl: Yes, there are some things for us to think about. Some teams are getting in the way of our game plans for certain circles.
Mitraleius: We don't have a special strategy for the final weekend. We will keep working on ourselves and continue to analyze our performances every day.
BatulinS: We will play our own game in the final weekend.
Braexco: We have to take the risky plays, we need to go big in the final games.
Are there any other rosters you will be watching closely?
ibiza: We aren't really a team that focuses on the other rosters, the main priority is to keep playing with the same confidence we have right now.
xmpl: We of course have to watch the teams at the top closely. It is important to pay attention to opponents because the situation can change crucially in the last 8 matches.
Mitraleius: There aren't any other rosters that we focus on, especially now there are several teams involved in the title race.
BatuIinS: For sure, Digital Athletics, Tornado Energy and Team Liquid.
Braexco: Not at all, maybe in the final one or two games when you're close to another team – but for now we focus on ourselves.
As usual, fans can follow every match on the official PUBG esports Twitch and YouTube channels – we'll be live from 19:00 CET on 21-22 November.
For more PCS3 Europe updates, make sure you follow our Instagram and Twitter pages!